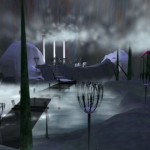 i have been busy installing and testing an opensim install (as both a research project in its own right, and a backup plan for terra.mellifera if second life goes down during a gallery install) and working on programming for the arduino based second life autonomous agent and client, based on libOpenMetaverse . At the same […]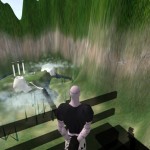 terra.mellifera has undergone a major terraform and most of the flora has found a balance within the system. the flora is vital to the existence of the mellifera themselves as it will provide them with several key items that they rely upon to continue their own processes. the new entry slurl is: http://slurl.com/secondlife/Caerleon%20Isle/242/239/27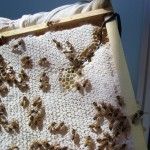 Yesterday Julie had decided to add another storey to our bees' accommodation and so when i arrived today to check the Piezo i was amazed to find this big loop of bees around the entry to the hive. At first it looked as if the bees were climbing all over each other to get back […]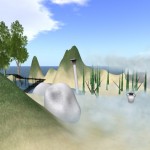 Thanks to the generosity of the 'caerleon isle' artist community our project now has a new home in the metaverse. Here is the SLURL :http://slurl.com/secondlife/Caerleon%20Isle/154/153/22 Caerleon isle has been my home in SL for  some time now, and has developed and evolved (along with its sister sim – new caerleon) into a vibrant place of […]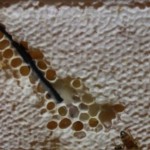 Before meeting Julie at the 'bee house' i took another sound recording from the Piezo. It's not turning out as we had hoped but more of that in a minute… Julie once more helped me by opening up the hive & lifting out the frame with the Piezo inserted in it. As you can see […]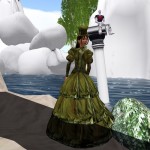 nonnatus korhonen and nuerone schism, andrew and trish's avatars have been meeting regularily in second life, putting some time into developing a self sustaining eco-system for the mellifera to exist within. images below show the self regulating, self replicating mellis florae, and a developing Arcadian environment that will become central to the project.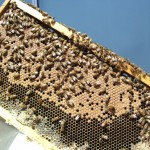 Today I met Julie and we opened up the hive. After the usual preliminary smoking proceedure she lifted out the frame where the piezo frame was embedded in the wax. Things have certainly changed since the last time she looked & told me that the bees were avoiding the piezo area!! Lots of honey making […]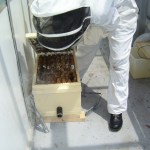 On Monday 13th October, with the help of researcher Julie Lim, the frame with the Piezo Mic embedded in the wax was inserted into a hive. After smoking the hive to calm the bees Julie took out the first frame full of honey Then we put the new Piezo frame at the front. Finally Julie […]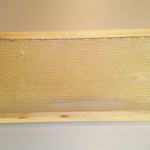 another trip to the bee house, this time we inserted a mic right into the hive and captured some fantastic audio of local and general bee activity. we worked with researcher Carla Evangelista  in installing out mics and in discussion our observations and poetic readings of the bees activities. (pictured below: in the first image, […]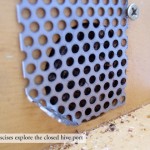 with the intention of observation and audio recording we headed for the bee house. after some trouble finding a piezo transducer (whatever happened to musical christmas cards!) we set off with our trusty (and well soldered) contact mic and H2 zoom.. intrigued by the concept of communication across the hive through vibration (stamping little feet […]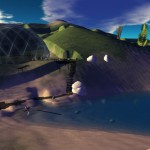 mellifera has a new home in second life. you can teleport directly from here to see whats going on… early experiments at the moment… http://slurl.com/secondlife/Pyewacket/207/14/23 the dome is built using Shine Renoir's Geodesic Dome Building scripts found here.