Archive for press
You are browsing the archives of press.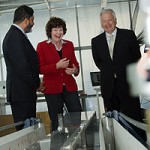 The Bee House at the Queensland Brain Institute opened recently. For the Mellifera project, this represents the site of exchange between artist, scientist and bee. (this entry includes links to two articles on the opening and the importance of the work being done at the bee house)
Sydney-based visual artist and writer Andrew Burrell, and Brisbane-based arts/science practitioner and researcher Trish Adams will collaborate to develop an inter-disciplinary artwork exploring cognitive processes and body movement and its relationship to virtual environments.